Car Dealership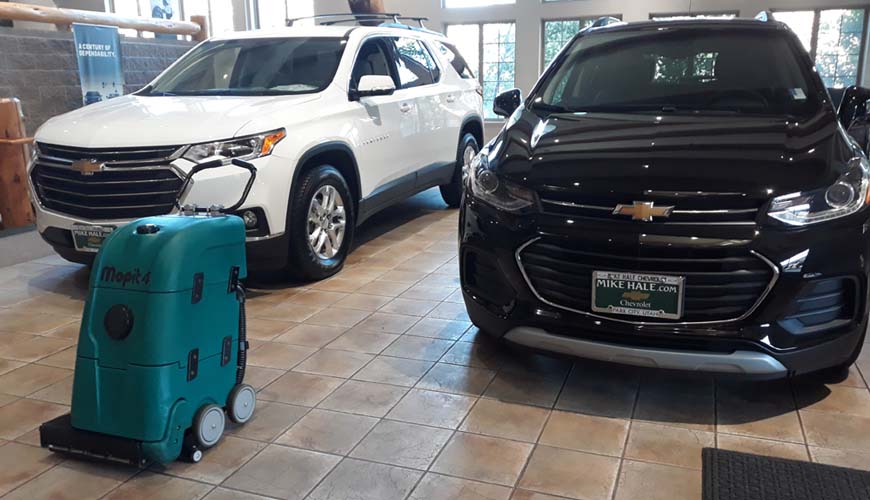 Your Search for the Best Commercial Cleaning Services for Car Dealership ends here!
Get ready to shift into high gear with our top-notch commercial cleaning services for a car dealership!  Deep cleaning by our experts makes the cars so shiny that your showroom sparkles just like all brand-new cars. From the glistening exteriors to the spotless interiors, our team leaves no detail untouched.
A comprehensive car dealership cleaning service by experts is surely an investment in the appearance, professionalism, and customer experience of your dealership. Hiring a professional company for cleaning ensures a clean, organized, and well-maintained environment that your customers do acknowledge.
How our Commercial Cleaning Services benefit your Car Dealership?
A Shiny ShowroomOur team of experts makes your showroom sparkling that leaves a lasting impression on your customers.
Productive WorkplaceA clean environment boosts staff confidence and productivity.
Germ-Free GuaranteeWe at My Park City Cleaning, help keep your showroom and workplace free of germs and viruses
Time-SavingA lot of time is saved for expanding your business instead of giving considerable time and effort towards cleaning. This way you can focus on your customers which matters most
Professional PolishWe use state-of-the-art tools and equipment for polishing to get the job done in the minimum possible time.
Budget-FriendlyOur services are budget-friendly as compared to the costs incurred by you on supplies, equipment, and staffing.
At My Park City Cleaning, we follow a systematic approach to cleaning work so that no spot goes unnoticed. We offer the following services to give you a gleaming showroom.
The following tasks are included in our cleaning services:
Showroom cleaning—dusting, vacuuming, and mopping the showroom floor.
Restroom cleaning—cleaning and sanitizing basins, toilets, and other surfaces along with re-stocking supplies and garbage disposal.
Office cleaning—vacuuming, dusting, and mopping office areas, as well as cleaning desks, chairs, and other surfaces.
Waiting room cleaning—cleaning waiting areas, tables, and other surfaces.
Service area cleaning—cleaning and organizing service bays, as well as disposal of waste and recyclables.
Car storage cleaning—cleaning and organizing storage areas for cars, as well as the removal of debris and waste.
If there is something we are sure of, it's that you won't regret your experience with My Park City Cleaning.
You will find many commercial cleaning companies in your city, but here are a couple of things that set us apart.
ReliabilityWe have a reputation for meeting our clients' needs in a timely and efficient manner.
Customized ServicesWe offer flexible and tailored services to meet the specific needs of each dealership.
Professional StaffOur cleaning staff is well-trained, professional, and committed to providing excellent service.
High-Quality Equipment and SuppliesWe use top-quality equipment and supplies to ensure a thorough and effective cleaning.
Attention to DetailWe pay close attention to details to ensure a spotless and organized environment.
Competitive PricingWe offer competitive pricing for our services, making it affordable for our clients to maintain a clean and inviting environment.
Initial AssessmentWe conduct a thorough assessment of the dealership to determine its cleaning needs, including the size of the dealership, the number of cars on display, and the specific cleaning requirements.
Customized PlanBased on the initial assessment, we create a customized cleaning plan that includes a schedule for regular cleaning services, specific tasks, and the frequency of each service.
ArrivalOur cleaning staff, equipped with the necessary tools and supplies, arrive at the dealership to perform the tasks.
Thorough Cleaning Our staff performs a thorough cleaning of the dealership including the showroom, office areas, restrooms, waiting rooms, and service areas.
Inspection and Quality ControlWe inspect the dealership after cleaning to ensure everything is done properly according to the required standards.
Communication and FeedbackWe stay in contact with our clients and are open to feedback to ensure that our services meet their expectations.
We, at My Park City Cleaning, go beyond just tidying up showrooms and washing cars to meet your all needs and concerns. Our top priority is customer satisfaction.
We believe that a clean dealership is not just a visual representation of your business, but it also helps create a positive experience for your customers.  Call us now for a free quote to get your dealership in top-notch condition.